I began playing lacrosse for Western Loudoun Lacrosse and loved the sport. I got really interested in all the different ways players were stringing their heads. I started to learn about different head types and ways to string a head. I am now in 11th grade at Loudoun Valley High School in Purcellville, VA.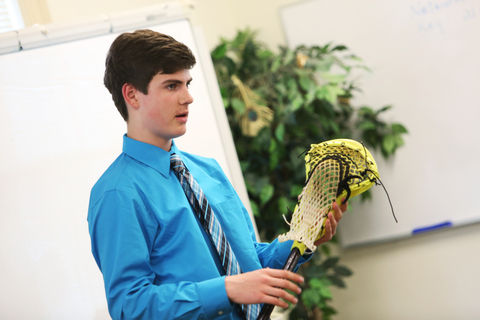 I quickly found out that I was pretty good at stringing heads and custom-izing them to certain styles of play. Since then, I have strung over 100 heads and also have begun custom dyeing. 
I have invented my custom wax blend that I call MaxWax Mesh. 
I have had great success in growing my business. Sales of MaxWax mesh have increased incredibly in the last few months. I am in many Play-It-Again Sports stores and have been selected as one of Loudoun County's Young Entrepreneurs of the Year. 
Would you like to try a wax mesh that doesn't flake or dry out? Does your head need restringing? Do you think that a different shooting string style might make a difference?
Email me at maxlaxstrings@gmail.com and let's talk. I'm sure I can make a differ-ence in your accuracy. I am also sure I can make your stick look awesome!